"What Is Truth?"
April 18, 2014
Today is Good Friday.  This is the day Christians of every sect commemorate the dying of Jesus Christ on the cross.  Why did he die?  The simplest theological explanation is that He died for all of our sins.  He went to that cross wearing the sins of everyone in the past and future.  It was the ultimate showing of Love as God had his Son sacrificed by the hands of humans.  With this final step of death, humans could have a close intimate relationship with God.  Which comes in very handy since God does not do things like take away our human nature.  We still sin…a lot.  But it is no longer a wall between us and the Lord.
And don't forget that Good Friday isn't the endgame.  Three days later, Jesus rose from the dead and lives on today.  It is through him that we have a future to look forward to when we die and make the transformation from this world to the everlasting one.
I know my limitations.  I know what I believe, I understand some of the Bible, but I am no scholar.  It comes down to faith to a certain degree.  But there are two short messages I want to share here.
In the gospel of John (18:38), Pontius Pilate, the governor of Judea for the Roman Empire, interrogates Jesus before he sends him to his death.  Jesus tells Pilate that men come to him for the truth. Pilate blurts out, "What is Truth", and promptly turns on his heel and walks away.  We have here, I believe, the first recorded example of a politician asking an important question …and not bothering to wait around for an answer!
But it is also a question we all need to ask ourselves, and take the time to find an answer.  I will use Christians here as an example, but if you are of a different faith, you may be able to apply this to your circumstances.  I think we get so caught up in the hustle and bustle of life, we forget that our spiritual beliefs are supposed to be our guide.  Too often, we let circumstances and other people wear us down.  We may spout out the main points of our spiritual beliefs, but we do not necessarily remember to live them.  This is hard stuff to do.  The Bible is full of people in the Old and New Testament who fall by the wayside until God picks them up.  There is always hope.  After all, we have to do it through Him; this is not something we do on our own.
Which leads me to my second point.  The whole reason Jesus Christ came here to die for our sins traces back to Adam and Eve in the earliest part of the Bible.  In Genesis 3:5, they are tempted to eat the fruit of the tree of knowledge by being promised that "you will be like God."  That arrogant quest fuels many people.  The atheists and doubters believe that the bible is just a bunch of stories, that God doesn't exist, and man can only rely on himself.  How is that working out for the world?
And I am not talking about the fight over religious doctrine that has led to more wars than you can count.  I believe that the problem is men taking what God taught, putting their own spin on it, and perverting it.  To me this is a great example of how we can screw up a good thing – we start to insert our own arrogance into something that is supposed to be for all men and the real lesson is lost.
Let's look at the theory of evolution.  What never seems to be stressed enough is that it is still a theory.  There is more documentation on the life of Jesus Christ than hard evidence showing that we descended from apes. (Ok, maybe a study of Congress would strengthen the theory.) It really bothers some people that there may be somebody smarter out there who actually has all the answers… which means they have to step down off of their self-imposed pedestal.
If you are a Christian, take the time this weekend to reread the biblical passages on the passion, death and resurrection of Jesus Christ.  If you are not Christian, give it a try anyway.  You may be moved…at the least you may understand the basic beliefs of Christianity.  You do not even need a Bible. There are plenty of internet sites devoted to the Bible. At the very least, really think about your own spiritual beliefs. It is only going to be through the weaning of our arrogance that we have a chance to do what is right in life for ourselves and for others.
---
  Check Out My New Book
Essays on government, education, family life, etc. that helps put issues and solutions in perspective with thoughtfulness, not extremism. You know, like the majority of Americans really want! Go to The Book Corner.
---
Funny What Becomes News
April 17, 2014
A still shaky economy, Russia throwing its weight around, infighting in Congress, and what do some people in the news media concentrate on…Stephen Colbert taking over for David Letterman on "The Late Show." Rush Limbaugh has spoken out on how Colbert will not play in America's heartland and Bill O'Reilly criticized Stephen Colbert on "The O'Reilly Factor" earlier this week. He continued his campaign against Letterman's "Late Show" replacement during an appearance on "The View" on Wednesday.
"He's more than a comedian. He's a mouthpiece for the far left," O'Reilly said. "I have  a pretty good relationship with Jon Stewart … but Stewart's a different animal. Stewart will make fun of everybody. He sees things that are absurd on both sides. Not Colbert. He's a very committed leftist."
I do not know Mr. Colbert's politics. I know when he plays his faux conservative personality on Comedy Central's "Colbert Report" he makes me laugh.  I generally wind down my day watching Jon Stewart's "Daily Show" and the "Colbert Report." They make me laugh and I have been to tapings of both shows where the two hosts come out ahead of time and talk to the audience. They are both naturally funny and very talented. Colbert is still funny and engaging when he is not in his character and I think it is ludicrous that people like Limbaugh and O'Reilly have nothing better to do than to pontificate on a change of television host.  Of course, this is probably because they have both been harpooned on "The Colbert Report" and take exception to it. I know Limbaugh and O'Reilly think they are special, but I have watched the show make fun of pundits from both sides of the aisle.
I have two points here. One is that we need more laughter. Ever since I was a kid watching Johnny Carson, I laughed at the political jokes. I think this keeps life in perspective and focuses on some of the absurdities that happen in government.  Besides, we have politicians who are not afraid to put themselves up on a pedestal and take themselves way too seriously.  There are some things said on the two late night shows I don't agree with, but that is ok. They are comedy shows. And let's face it, the two targets of these shows are usually government and the media. Can you think of anything else that provides so much fodder for comedy?
The other thing I really am beginning to hate in our country is the labeling. Both Limbaugh and O'Reilly labelled Colbert as a "leftist." This term is thrown around with the same distain as liberal, right-wing radical, RINO, and whatever someone else wants to call another.  I guess it is like in the 1950's when calling someone a "communist"…whether they were or not…was sufficient to label them and get them in trouble. The language that is thrown around in politics and the media is a big problem today.  Many people are only vaguely familiar with some of these terms.  If they are too lazy to do any real reading on someone, that label is what is going to stick.
America is too uptight.  We need to laugh at ourselves more.  I do not know how Colbert is going to do as host of "Late Night" but television is one of the true democracies we have in the world.  The ratings are the votes and if enough people do not watch him, CBS will make a change.  But let the company make the decision.   If there is any entity that has an inflated opinion of themselves, it is the pundit.  Guess what? People like Limbaugh, O'Reilly, Chris Matthews, Rev. Al Sharpton, etc. do not have the answers.  If they did, they would do something that actually made a difference in people's lives. They are as much entertainment as is Stephen Colbert.  The difference is that they are given more credit than is appropriate.
---
Three-Card Monte in Washington
April 16, 2014
With 24/7 news and information at our fingertips, do you know the biggest problem in today's information age? It is knowing what data is accurate! You go on any news-oriented landing page of any internet browser and you can find 10 stories on any subject.  And the odds are good you will find facts throughout the stories that contradict each other.  Obamacare is the greatest example of this. It is good, it isn't, it is under budget, it is costing a fortune, yada,yada,yada.
Part of this is a reporter or news service can choose from a report that best matches their personal bias.  Then we have the case where the government bureaucracy can alter its reporting method and all bets are off on what is true. Today's example is where the U.S. Census Bureau announced it will alter the questions asked about Americans' health insurance coverage, potentially making it more difficult to compare past and future data. The move comes as the country is shifting over to full implementation of the Affordable Care Act, and people on both sides of the debate would like to be able to point to solid data on how well it is working (or not).
The problem, as the University of Minnesota School of Public Health's Kathleen Thiede Call told the NY Times, is that "The health insurance data reported in September of this year will not be directly comparable to what was reported last September."
The Census Bureau said this change was in the works for some time and it was just bad timing to implement it now.  Really?!? The biggest health care program has gone through more changes on the fly than costume changes for a runway model, and something like this could not be delayed for a couple of years? Sometimes I really think Washington DC, and in this case the Obama Administration, operates on the premise, "If you can't dazzle them with brilliance, baffle them with bullshit." Lord knows we have not been dazzled in quite some time, and we need a steam shovel to deal with the rest.  Both sides do this and we as Americans have to be tired of their version of Three-card Monte.
As you may know, Three-card Monte is a confidence game in which the victim is tricked into betting a sum of money, on the assumption that they can find the money card among three face-down playing cards. It is the same as the shell game, except that cards are used instead of shells.  Years ago when you walked around New York City, you could find these games at any corner. The premise is to confuse and misdirect the victims so that they do not know where the correct card is.
I feel the same way with anything we are told these days.  There is a reason most polls show a distrust of our government. A lot of policies and proclamations that come out of DC are not necessarily based on any facts.  Then those pseudo-facts are further decimated and filtered through whatever mouthpiece presents them to us.  Whether a news service is perceived to the right or to the left will directly affect how they spin a story.  Then social media trumpets a story even further if it happens to be proving the sender's point.
Information is powerful. If you are in business or science, having correct information is imperative to making a good decision or to further research and discoveries.  Shouldn't running the most powerful country in the world rely on the same premise? You know from listening to the politicians, they react to the news they want, not reality.  And we as a country have been in an incredibly long period of limbo because of this. I urge everyone to do your part. Read the news with a discerning eye.  There are two sides to every story, and if you do not take the time to digest that, ignorance runs rampant.  Maybe our leaders can be taken in by a street corner confidence game, but there is no reason we should.
---
We Need the Gettysburg Address Today
 April 15, 2014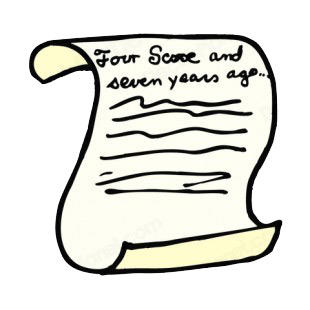 For his latest documentary, "The Address," Ken Burns changed up his traditional style of sprawling looks at major historical events in favor of a short, cinematic look at the lives of young boys at a Vermont school who are challenged to memorize and recite the Gettysburg Address. The 90-minute film, which airs Tuesday on PBS, follows the lives of the boys of the Greenwood School in Putney, Vt., who are all grappling with learning disadvantages as they attempt to learn and understand President Abraham Lincoln's short but powerful speech.
Excerpts I saw of the boys performing the speech sent chills up the spine. First, because it is awe-inspiring when anyone, especially a young person, works hard to overcome personal challenges. Second, because it is such a damn good speech.
Remember, Lincoln was there to dedicate the National Cemetery at Gettysburg four months after the horrific battle. After a two-hour speech by the Hon. Edward Everett, Lincoln got up and gave his:
Four score and seven years ago, our fathers brought forth on this continent a new nation, conceived in liberty, and dedicated to the proposition that all men are created equal.
Now we are engaged in a great civil war, testing whether that nation, or any nation so conceived and so dedicated, can long endure. We are met on a great battlefield of that war. We have come to dedicate a portion of that field, as a final resting place for those who here gave their lives that that nation might live. It is altogether fitting and proper that we should do this.
But, in a larger sense, we can not dedicate, we can not consecrate, we can not hallow this ground. The brave men, living and dead, who struggled here, have consecrated it, far above our poor power to add or detract. The world will little note, nor long remember what we say here, but it can never forget what they did here. It is for us the living, rather, to be dedicated here to the unfinished work which they who fought here have thus far so nobly advanced. It is rather for us to be here dedicated to the great task remaining before us—that from these honored dead we take increased devotion to that cause for which they gave the last full measure of devotion—that we here highly resolve that these dead shall not have died in vain—that this nation, under God, shall have a new birth of freedom—and that government of the people, by the people, for the people, shall not perish from the earth.
Lincoln summed up what our country is all about in a relatively few words. They are words every American should know and carry in their hearts.  They should be a guide to framing every debate we are going through…and there are many.  We are not having a Civil War, thank God, but the various national debates are anything but civil.
I wrote a series of columns last week that touched on the perception projected by our political parties versus the reality that we are in.  I received a lot of comments through social media. Many people agreed with me, some disagreed, and a bunch were just stupid. (Really – if you are threatening to leave the country because you do not like what is going on, please go and don't let the door hit you in the ass. I am still waiting for Alec Baldwin to leave from when George W. Bush became President.)
We are not a government "of the lobbyist, by the money, and for the news media". That was not the speech.  But neither is anything going to be solved with nasty words, accusations of not being an American, and disdain for the government as the constant rhetoric. (I am not even talking about social media here – but mainstream news.) In order not to "perish from the earth" we are way past time for Republicans and Democrats to start tackling our problems intelligently together. Nobody is going to get everything they want. I think once that truth is accepted, it might be possible to move forward. As for the people who defend their respective party to the end, you have it wrong. That is what we are supposed to do for the country; not for some entity that is more interested in proving itself right than actually accomplishing anything.
Lincoln commemorated the soldiers who died defending the values of our country.  Many more have died in that same cause right up to this very day. We owe them a great deal. I think it is way past time for our government leaders to govern, and not spend all of their time protecting their ideological turf.
---
 Perception - Part 2
Bread and Circuses
April 11, 2014
Yesterday, I talked about how the Republican's overall message excites the general population as much as going in for a root canal. Based on the responses to yesterday's columns, I am frightened at the tunnel vision some people have and how they rather be "right" than win. I guess it is easier to bitch than exercise a little brainpower to figure out how to make things work. No wonder nothing seems to get done in Washington.  I am not out to trash Republicans…I am one.  But I am foremost, proud to be an American and like to think the country can move forward out of ideological arguments.    Holding your breath until you get your way is not the way to run a country.
The important thing when presenting a message is context.  All you have to do is look across the aisle at the Democrats and people's perception of them.  The context of America right now in 2014 is that people are hurting. Yes, the economy improves bit by bit, but the recession that hit in 2008 is going to affect us for a long time.  Wall Street numbers aside, there are many, many people woefully unemployed or still looking for jobs. That is America right now. That is truth. And the Democrats have cheerfully presented themselves as the party of Bread and Circuses.
According to Wikipedia, Bread and Circuses means a superficial means of appeasement. In the case of politics, the phrase is used to describe the creation of public approval, not through exemplary or excellent public service or public policy, but through diversion; distraction; or the mere satisfaction of the immediate, shallow requirements of the population. The phrase also implies the erosion or ignorance of civic duty amongst the concerns of the commoner.
Unfortunately, this definition is right on! I am the first to champion the various safety nets established by the government.  I have had to make use of them in the past. I know people who are frustrated and working their ass off just to find a decent job again. Do people abuse the system? Yes, but it is not the majority. The Democrats come across as the champions of these programs and stand on the podium shouting out, "Look what we do for the little guy."
To me, the real story here is that the Democrats are lazy. It is a lot easier to come up with ways to give people a little help to keep body and soul together, and a lot harder to produce solutions that actually addresses the disease.  Two of the biggest examples I can point to is jobs and Obamacare. I wrote many times how, right or wrong, having a job is so important to an American's identity. It is a source of pride. We are conditioned to work and work hard. When two strangers meet, somewhere in the first five minutes of conversation is the question, "What do you do for a living?"  Most people do not want to say, "I've been unemployed for a year, my benefits ran out, and I am spending everyday looking for a job." 
It is a lot easier to extend unemployment benefits than to improve the framework that will encourage job creation.  Since I am out there in the trenches and I believe extending unemployment is needed right now, it irks the hell out of me that there is no conversation on actually helping to create jobs.  If John Boehner is accurate that the House has sent job creation bills to the Democratic Senate, then where are they?  It seems like more bread and circuses is all the Democrats want to talk about.
Next, we have Obamacare. Forget here the argument whether it is good and bad. This is the laziest policy to come out of the Obama Administration. Why? Because in bragging that over seven million people signed up, the President always makes it sounds like people thought it was great and voluntarily leaped on the bandwagon. IT IS THE LAW. Americans have as much of a right to ignore it as they can ignore the fact that they have to file their taxes by April 15!
Do Democrats appeal more to the masses? Yup! Do they advertise to the masses that these band-aid programs are bankrupting America? Nope. And that is where the last part of the Bread and Circuses definition hits home. Many people do not realize the impact of everything.  This goes for both sides of the aisle. Republicans want to downsize the government; Democrats want to expand it. The far-right seems to have no concern for people who are struggling; Democrats don't care how much money we will be spending on these program in 10 years. The Republican message is medicine; the Democratic message is sugar.
People like sugar more than medicine, but too much of it causes decay.  And if you don't take your medicine, you are not going to get well. If Republicans want to WIN, they have to realize too many people, many who used to be middle class, are really hurting.  You have to work where reality is, not how the country was functioning 40 years ago. And the Democrats have to stop spending us into oblivion. Sooner or later, the piper has to be paid, and it is going to be a disaster.  Americans need educating. Maybe if the two political parties did that instead of living in their alternate realities, the country can move forward.  Since the turn of the century, it seems like we have been either stagnant or sliding backwards.  People's perception of the government should be that the country is progressing. That is the reality that the parties need to work on.  Compromise is not a bad word. The United States has been doing it since 1776.
---
Perception
April 10, 2014
I love magic. Actually, it is not magic, but an illusion. Magicians fool us into thinking something is not the way it is. Put an assistant in the box and make them disappear. Of course, they are not really gone. Through mirrors and specially constructed sets it only seems like they disappear. But magicians do it with such showmanship, the audience can suspend disbelief and actually think the person vanished.
Magic is fun and entertaining. For the past week or so, the Republican Party has been doing its own form of magic that baffles me as much as a magician's act. I am a Republican and their illusions make me wonder if they once again want to snatch defeat from the jaws of victory.  They have a better than a 50-50 chance of capturing the Senate this year while prepping the table for the Presidency in 2016.
However, two things happened in the past week where the Republican Party is spending so much time appealing to its base that it seems to be forgetting that it has to start bringing in other voters to win elections.  Because of the way congressional districts are structured, they will keep control of the House of Representatives, but once again they seem to be going out of their way to show they are not appealing to voters they need.
First up was the Paul Ryan budget.  While I do not think that even Mr. Ryan believes it will actually pass and it was presented more as a statement of the Republican Party, most Americans do not understand that.  I believe there are three types of citizens: people who are news junkies and pay attention to all of this (that's me), people who look at headlines and have a casual interest, and those who are blissfully ignorant. I think the ones with the casual interest make up the majority of voters. They are the ones who make the difference in elections for Senate and President. What they hear when the Ryan budget is broken down into bullet points is that social programs are cut, less money will be available for fixing our crummy roads, and the healthcare picture will be cloudier than it already is. Yes, it brings down the deficit, but at a tremendous cost to many people.  It continues to give the perception that Republicans do not give a damn about people.
Then on Wednesday morning, Senate Republicans blocked Democratic Sen. Barbara Mikulski's Paycheck Fairness Act, which aims to reduce workplace discrimination against women. Senate Minority Leader Mitch McConnell argued that the bill has nothing to do with women, and that Democrats are simply making show votes for their "powerful pals on the Left." While this may be the case (and I am not sure if it is) the message it sends is that the Republicans aren't for women. This is not true, but that is the perception that results.
Like it or not, the majority of Americans react to messages and how that message is packaged.  If Republicans were playwrights, their plays would never get to the stage.  If they were football coaches, they would never get to the Super Bowl. The Republican Party seems to have this psychological desperation to keep the diehard members of the Party happy while alienating the people that can actually put them over the top. And the diehards seem too stupid to realize that their desire to be "pure" to their ideals constantly jeopardizes the Party's efforts to win the Senate and Presidency.
The mood in the country is such that Republicans can win. I cannot help but wonder that if they do not claim the Senate this year and the White House in 2016 that the Republicans will do a lot of hand-wringing and lamenting that they have to appeal to a great majority of Americans. You know…like they did when they lost in 2012.
---
Jeb Bush Not a Coward
April 8, 2014
This is not a column on immigration reform. It is not a subject I am very knowledgeable about at this time.  I do know it is a big issue in our country and something should actually be done about it instead of just talking.  If there is any lesson learned in Washington DC it is that problems do not go away if you do not act on them…they just get worse.
I do know this is another decisive issue between the two parties and a big problem within the Republican Party.  The super conservative faction of the Republicans do not want to do much of anything to help people who are here illegally to be granted a legal status. It doesn't matter that courting the Hispanic vote is important these days in an election, especially for President of the United States.
That is why I admire Jeb Bush when on Sunday he said that illegal immigrants who come to the United States to provide for their families are not committing a felony but an "act of love." He has not decided if he is going to run for President, but he had to know this comment would cause controversy in his own party.  He stated his position clearly anyway.
I just find it refreshing he is not afraid to speak up for what he believes in.  In this day where an average politician's belief system is shaped by polls or party brainwashing, we need more government leaders to do things like this. It would be equally refreshing is that if Jeb runs, he actually has a campaign based on his ability and beliefs…not one where the basis for the campaign is destroying your opponent without any clear idea of how you will make a change.  (Think Obama/Romney.)
This reminds me that we should be able to respect someone running for or already in office, even if we do not agree with him or her.  I guess the caveat there is that they operate from their own convictions and not from a paper handed to them with "talking points."  Mr. Bush also says that he is a strong defender of the nationalized Common Core education standards. This is something I wrote against a couple times in the past few weeks.  I think the more the government tries to "fix" education, the worse it is getting.  I disagree with Jeb on this, but it does not mean I think it turns him into the devil.  It strikes me so funny that people get up in arms when a candidate does not agree with them on a 100% of the issues.  If you think you are ever going to find that, you might as well go find your own private island right now or you will live life in perpetual disappointment.
Maybe Jeb shot himself in the foot with his comment, or perhaps it will win over people who normally would not give a Republican the time of day.  The jury is out on that. The thing is he had the courage to talk about the 800 pound gorilla in the room, and not with the usual party rhetoric.  That is what we need more of in government. If you are afraid of speaking your mind, then how can you possibly make a difference in office?  Look at a snapshot of Washington DC right now.  Who in either party or in the White House or Congress, actually speaks his mind without any consideration of their party's "thought police"? Not many. And how much has gotten done in Washington the past five years. Not much. 
---
Battling Budgets…And They Are Both Daft
April 8, 2014
This past week we have seen the Republican and Democratic budget plans on how the country should conduct business for the next ten years.  If Barnes and Noble were selling publications of these budgets, they would be in the "Fiction" section.  Or more appropriately, they would sit on the "Fantasy" shelves.
I do not understand why either party goes out of their way to be typecast whenever they present a budget. These things are usually released to appeal to the rank-and- file hard cases of either party.  The problem is that the rest of America is presented with the perception that the Republicans are the party of "no" and have no heart, while the Democrats are the tax-and-spend crew.
Let's quickly look at each budget. On the Republican side, Paul Ryan calls his proposal for fiscal 2015 a "blueprint for the country's future." The plan released sets a goal of a top individual tax rate of 25 percent, compared with the current 39.6 percent, and calls for increases in defense spending and cuts in non-defense discretionary spending.  Translation: the only people the tax rate cut benefits are the rich and every program but our country's defense are cut. This includes cuts to higher education grants, infrastructure, and social programs.
I am all for balancing the budget, but not to gut America in the process.  Let's just look at our infrastructure. Our roads and bridges and railroads need a lot of work.  Soon we will creep into third world country status ay the rate we are going. Who is going to fix the roads: the states? They are one up on the federal government since most states are mandated to balance their budgets, but they are not rolling in dough.  Inflation aside, why was America in the 1950's throwing all kinds of money into defense as the Cold War took off, and President Eisenhower instituted building the interstate highway system? These days we cannot even build a couple of tanks and fix potholes at the same time.
One last thing: I hate taxes as much as anyone. But if you do strip away many of the nation's safety net programs, where are the jobs going to come from to get people off of them? Please do not hand me the "trickle-down theory" that a lower tax rate on the wealthy means more investment in jobs. Maybe it did in the 80's. But these days, if someone invests in a company or its stock, it usually means that company will build more factories and hire workers – IN OTHER COUNTRIES!   Reality check time!
 Speaking of reality, lets go to the Democrats. Their plan relies on $1.5 trillion in higher taxes over the coming 10 years and the economic benefits of immigration reform to make the numbers work. The plan by Maryland Democrat Chris Van Hollen counts on hundreds of billions of dollars in tax revenues from an influx of immigrant workers to help reduce deficits to the $600 billion range by 2024. The measure also embraces President Barack Obama's call for additional infrastructure spending, early childhood education, and additional jobless benefits for the long-term unemployed.
This plan swings the pendulum the other way. Even in Washington numbers, $1.5 trillion is serious money – especially in terms of taxes.  I marvel how the Democrats can magically see money coming out of a reformed immigration policy that has been stalled forever. By the same token, Ryan's plan is partially funded by the repeal of Obamacare.
I understand these budgets are more for the posturing of the two parties than anything else. Most Americans do not know that though. They hear the bullet points on each and come to the conclusion that the government has no idea what it is doing. (Which shows that you can sometimes come to the right conclusion with the wrong information!)
I still say we can save a lot of money and bring in a lot of revenue if we just clean up what we have. Have an independent audit of every facet of the federal government and there would be enough waste uncovered to fund several small countries. Fix the loopholes in our tax code on both the corporate and personal side and the national coffers will fill up again. I am a big believer in fixing what is broken before you add more broken pieces to the mix.
The soapbox shouting has to stop. The majority of Americans look at either party and say they are out of touch. Let's push for real solutions – not an HBO fantasy show. Do you realize that if Ryan or Van Hollen were the Chief Financial Officers of a major company or organization and presented their board with budgets grounded in fantasy, that they would be demoted to the mailroom! Hey, does Congress have a mailroom?
---
Reality an Option, Not a Requirement
April 7, 2014
I saw an article last week written by Philip Bump for The Wire.  It illustrated how devoid from the real world some politicians in office are.  In his article, he points out:
Democratic Rep. Jim Moran of Virginia wants you to know that, at $174,000 a year, members of Congress are underpaid. Because Jim Moran, like others, doesn't understand actual economic hardship and, frankly, isn't that great at politics either.
Moran is not the only public official to make a dubious claim about salary hardship in the past 24 hours. Larry Schwartz is secretary to New York Gov. Andrew Cuomo, a position that is like chief of staff in the state. Schwartz was discussing a proposal backed by Cuomo that would freeze property taxes on people at certain income levels. After all, middle class folks like those making $500,000 shouldn't pay exorbitant taxes. Yes, that's right. Middle class. "I would consider someone making up to $500,000 as upper middle-class," Schwarz said, according to The Journal-News. "I wouldn't classify them as rich." OK.
Sometimes, you can only listen to most of our politicians in complete disbelief. You begin to wonder what planet they are operating on.  I am sorry, but while it takes more money than ever before to be classified as "middle class" these days, I still think half a million dollars puts you in the "moderately wealthy" category.  If you go by Shwartz's definition, then much of what used to be classified as middle class is now the country's working poor.  Come to think of it, that may be a little closer to economic reality.
As for members of Congress being underpaid, how can you be underpaid when you consistently underperform at your job?  If Congress was a business and you had each member undergo an annual review, many members would be put on probation or given a pink slip. After all, most salaries in a corporation are based on results.  All you have to do is look over the past few years at the total lack of anything being done in Congress.  Even to do the bare minimum of their job in governing America, our national legislatures had to be prodded and pushed.  Rather than passing laws, Congress has only excelled in mindless rhetoric and bickering.  That is what the average taxpayer is forking over their hard-earned money for. And these self-important stuffed suits think it is not enough!
I firmly believe that the central problem in American government today is that too many politicians live under their own dome of ignorance.  People in the House and Senate, and the President for that matter, are insulated from what is going on by their staffs.  These court guards only bring to their bosses what they think they need to know.  Thus, the problems of America become abstract philosophical and party-related issues. There are rarely any considerations of real people in the arguments.
America is still made up of real people. These are the ones living paycheck-to-paycheck. They are the ones wondering why they cannot find a decent job, or constantly feel like the axe is hovering over their heads if they have one. They know what it is like to cobble together a series of jobs to bring home enough money to feed the family. They wonder why their kids come home from school not knowing how to read and write and cannot even fathom how to get them to college.  And they are the ones who half-heartedly go to vote in November because they have been conditioned that no matter who they vote for, nothing really changes.
Maybe this is a bleak column to start the week, but the detachment between reality and whatever the government thinks is reality, is becoming a widening gulf. Somehow the America of believing you can be better off than your parents has died.  We have gone from fighting to get ahead to battling in order to maintain the status quo.  Until our politicians go spend a half a day and talk to the staff of a McDonalds about how they survive, or chat about life with some Wal-Mart customers, they are going to sink deeper in their sea of ignorance.  Ignorance is bad enough, but when you broadcast just how out of touch you are by saying $174,000 is not enough money to not do your job, or $500,000 makes you middle class, then I do not know how things will improve.
---
More Three Stooges than Three Musketeers
April 4, 2013
All you have to do is look at how the three big leaders of our country talked this week - President Obama, House Speaker John Boehner, and Senate Leader Harry Reid – and you begin to wonder what happened to great American leaders.  Our history is full of them.  However, if any elected politician shows leadership, it is more like a shooting star that glows brightly for a few seconds before burning out.
Let's look at how these three men conducted themselves this week. First, there is President Obama crowing about 7.1 million people signing up for Obamacare. Jimmy Fallon put it better than I could the other night when he said on the Tonight Show, "The White House says it has surpassed its goal for people enrolled in Obamacare. It's amazing what you can achieve when you make something mandatory and fine people if they don't do it and then keep extending the deadline for months," Fallon quipped. "It's like a Cinderella story. It's just a beautiful thing. You make everyone do it."  I just thought about this: The American people did do what the law called for. Whether they liked it or not, many citizens respect this law because it is a law. This is more than I can say for President Obama who changed so many provisions of it as often as Lindsay Lohan changes rehab centers. 
Now let's go to Speaker of the House, John Boehner.  On the subject of restoring long-term jobless benefits, he is against it because it would not create jobs. He said, "We have always said that we're willing to look at extending emergency unemployment benefits again, if Washington Democrats can come up with a plan that is fiscally responsible, and gets to the root of the problem by helping to create more private sector jobs."  I agree with the concept, but he is a bloody idiot taking this stand.  Yes, we need an environment to create more jobs.  While Congress has not done a lot on this subject, holding people hostage who are struggling is not the way to go. Even if Congress passed bills to do something about the problem, how long would it take to show any results? A glacier can go faster than anything constructive coming out of Washington lately.
Look, there is a guy at one of my clients I do some work for. He was laid off from Citibank's IT department. He has been looking for work for over a year and has wiped out his savings. He goes on interviews for almost any job that will talk to him and it is usually for no more than minimum wage. This is a soul-sucking process for him and so many out there. If Mr. Boehner was in the business of governing people, he would realize immediate help is needed regardless of political philosophy. Yes, if it is true the House has sent bills to the Senate that would encourage job growth, he should force them to act on them; but not at the expense of Americans who are suffering. (Three side notes here:
1. Stop talking about people who are not looking for jobs because they are collecting unemployment. That is a minority. Stop using stupid excuses because you are too lazy to face the problem.
2. You are causing more unemployment with your attitude. The money people are not receiving does not get into the nation's commerce anymore. Independent studies show this causes layoffs in the industries people on low income frequent. And don't fool yourself – if you are collecting unemployment, you are in the low income bracket.
3. What the hell are these employment bills you keep talking about? I have not seen them in the media.)
Last we come to Harry Reid. This week he called the billionaire brothers Charles and David Koch "un-American," attacking them for the political ads being run against Democrats by Americans For Prosperity, a group funded by them.  I am not crazy about all of the money dumped into politics, but doesn't he have more important things to do than throw stones at the opposition? Like maybe bringing the House's job bills (whatever they are) to the floor of the Senate? Every time this guy is on TV, I cringe even more than when I listen to Obama or Boehner. He always strikes me as being quietly sneaky. For being in charge of the most exclusive club in the world (the United States Senate), he does a poor job getting them to do anything constructive.  For the size of the Senate, there is more rhetoric and nonsense that comes out of them than anywhere else in Washington.  You would expect more from the leader of the Senate than calling someone un-American because you do not agree with their methods. I guess that means Freedom of Speech is un-American. Next, he will be calling the Koch Brothers everyone's next favorite word: Nazis. If the Republicans do not win the Senate this November, I hope the good people of Nevada vote this guy out of office. He is a national embarrassment.
So there are our national leaders. Not exactly a Holy Trinity of confidence-building. Do you realize if we had leaders who stuck to their principles, but were more determined to move America forward, the last four years may have been remarkably different?
---
  We cannot play "would of, should of, could of."  What we can do is demand more of our nation's top dogs. If we do not get it, exercise your voice and your right to vote and make changes. At least the Three Stooges could make you laugh. These three make you want to cry. 
---
Great Teachers Getting Disillusioned
April 3, 2014
I did not plan to write so many columns within two weeks on education.  But in truth, I usually go with what hits me on any given day. This is an extension of what I have been talking about regarding the money that is wasted on grandiose ideas and plans for education. While I believe our government's efforts are doing a disservice to our kids, it is doing the same to teachers who really want to do a great job.
Last year I wrote a column congratulating my daughter on being Teacher of the Year in her high school. She teaches chemistry and I thought that it was a pretty cool honor for someone only in her fourth year of teaching. She brought a lot to her school's science department and she also supported different activities and programs in the school.  It struck me that she was as active being a teacher in high school as when she was a student. I also found out the amount of work she put into teaching with preparing for classes, and grading tests and papers afterwards. I discovered she had a reputation of being a tough grader, but fair, and the kids still liked her. Her attitude is that she was in school to get the kids to learn her subject and she was going to do the best she could at it.
Well, the other day I got a text she sent out to friends and family that said, "I am about 90% sure I don't want to teach any more so please let me know if you hear of any good jobs that only requires a degree."
I knew she was getting disillusioned about teaching, so I called her to give her some suggestions on how to go about job hunting. While we talked, I asked her if there was any single event that put her over the edge. It was more an accumulation of things.  We talked about things like Common Core requirements and other education issues. Here is the gist of the conversation:
As with so many jobs, she is tired of the administration. My daughter currently answers to someone who has no science background whatsoever. She says the administration has gotten steadily worse over the years.  There is not support from that section, only mandates and orders without any regards to common sense. The thing that got me is when she said that when she first got there, the school district was eliminating teachers for a variety of reasons. The problem is that the school budget has increased over the years but teachers have not been hired to replace many that were let go, and the current teachers certainly have not gotten an increase in salary. The only conclusion she can come up with is the administrators must be getting hefty raises.
Then she talked about the students. They were usually what kept her going with teaching. However, the policies of inclusion and the results of Common Core teaching gives her many kids who aren't prepared to learn chemistry. I did not know what inclusion meant, and she explained where students with learning issues are in classes with other kids. This can even happen when a kid has such a low IQ, he should be getting special help and not be in a regular class. We used to call this "mainstreaming" and many parents feel like their children should be in the same class as everyone else. While I understand this, this is another example of trying to make the world the same for everyone, but that is not always a constructive concept.
This led to a conversation about Common Core. As my daughter put it, Common Core is dummying down the classes so everyone gets it.  She pointed out that when she went to college in Florida, she thought the kids from Florida were not as advanced in their studies as students from New Jersey were. As she went through her education in college, she discovered that Florida had a Common Core type system that resulted in the kids just not knowing as much as Jersey kids. That was one of her reasons for not wanting to stay in Florida and teach there.  She also said that the kids going into her high school now went through grammar and middle school under Common Core type guidelines. They are coming to her class not prepared with the basic math skills they need and unable to write very well. One of the things the administration is trying to get all the teachers, regardless of subject, to do is to get their kids writing and help them to be better writers. My daughter pointed out that teaching chemistry is hard enough without having to teach English too. She is tired of kids coming into her class not prepared with the basics.  I said that is the reason that the biggest classes in community colleges are remedial reading and math as high school graduates are taught what they should have already learned!
My daughter is bright and I am sure she will land on her feet whether she continues teaching or does a career change. The point is that this is our education system in action.  Scads of money are being spent for all of these "cutting edge" programs that are not educating our kids. If we think we have a problem with kids unable to cope in the world now, what are we going to have another ten years from now? I think schools have to get back to fundamentals. Teachers teach, students learn, administration make sure teachers have the necessary tools, and parents trust what the teachers are doing and not second-guess them all the time. Kids should be included in classes even if they have a learning disability or emotional issue, but only within reason.  Equal treatment is just, but it may mean having equal opportunity in a separate class.
We always talk about our kids being the future. That does not necessary mean "future learning techniques" are the way to go. As taxpayers and parents, we are certainly not getting our money's worth (again) and we are sending our children into the world with one hand tied behind their back.  Throw in the young teachers who get disillusioned within five years, and the "education experts" are not doing their job.  Time for a change…maybe we do have to go to the past to prepare for the future.
---
7 Million and Not a Clue
 April 2, 2014
Yesterday, President Obama trumpeted the fact that 7.1 million people signed up for the Affordable Care Act through the government website. He has a right to be happy about it. The launch was on par with the maiden voyage of the Titanic, but instead of sinking, the techies got the ship righted and sailing. When I went on the site in December, it was pretty easy to navigate and it presented me with more options than I thought I would find. So on that score, the President has a right to smile.  But it is not time to spike the football yet.
In keeping with the football analogy, yesterday's bragging was like saying you are going to win the Super Bowl when all you did was get through the pre-season. There is a lot to do before anyone can declare victory or defeat here.  Listening to the leaders of both parties and the news pundits on television with their own biases, I have to wonder if anyone is capable of looking past the moment. A goal like reaching seven million people is great, but it is hardly the benchmark if this program will be successful or not. We have to see what happens with the seven million over the next year. Will they pay their monthly premiums? What happens when rates begin to go up?  What will their reaction be when they have to use the insurance and discover, as it is in some cases, their deductible is so darn high that they spend a lot of money out of their own pockets before the insurance kicks in?
There are a lot of other issues here. For one thing, it is a law that people had to have some kind of health insurance or pay a penalty on their income tax. That may be more motivation than anything else for many people. After all, not many of us like April 15, but we file our taxes because we have to. Many parts of Obamacare have not kicked in yet.  This is mainly because President Obama delayed sections of the law by his own hand that would be political liabilities. I believe if the entire law is enacted the way Congress passed it, it does not take full effect until Obama leaves office. Talk about playing it safe!
To me, the big thing I have not seen anything on are the financials. What is this program costing? When I applied, I got a hell of a tax credit to subsidize my plan.  I really do not see how that is sustainable over the long haul with America's financial state.  Another year or three needs to pass before this program can be termed a success or a failure by either side.
I also once again make a plea to the Republicans. It is time to stop talking about repealing the Affordable Care Act.  At least you cannot do that unless you have a viable alternative.  Like it or not, Obamacare addressed a real problem in America.  I do not think it dealt with it in a thoughtful way since medical and drug costs are still incredibly expensive.  But guess what – neither did you.  I saw where Paul Ryan released his plan for a national budget yesterday and it included repealing Obamacare. 
Here is the country's paradox.  It is expensive to have a decent life in this country.  I am not talking about Wolf of Wall Street money, but having enough to comfortably raise a family.  Everything is bloody expensive compared to the salaries many people bring home.  Healthcare is just one of those issues.  If our government continually brings about these safety net programs, but do little to promote a growing economy with decent jobs, people need those safety nets to survive. Maybe 10% of the folks going that route take advantage of the system, but way too many people have trouble going to sleep at night wondering how they are going to care for themselves and their family.  Then the problem results when these safety nets are like a cartoon snowball that picks up speed and mass as it rolls downhill.  It becomes almost impossible to stop and push it back up the hill.
So yes, President Obama can pat himself on the back for escaping a disaster with Obamacare's rollout.  I am old-fashioned. I enjoy having solid data to figure out if something is working or not. Frankly, I am sick of the rhetoric by the politicians and media on this matter.  NOBODY KNOWS ANYTHING YET. For every positive projection of the act, I can show you three negative ones and vice-versa. Victory or defeat is rarely reflected in one single moment. I hope we as Americans know that and are not taken in by the talking heads on either side of the aisle.
---
Fantastic Headlines You Missed Today
April 1, 2014
The Lion and the Lamb Lay Down Together; So Do Republicans and Democrats
Mets Win Home Opener
Obamacare Becomes Standard for All Government Programs
John Boehner Named Leader of the Year
The 1% Donate 1% of Income to Unemployed
Kardashians Quit Their Show; Join Peace Corp
Vladimir Putin Out of the Closet, Says He's Gay
FoxNews Endorses Democratic Candidate
President Obama Admits He Was Wrong
Atheists Begin Meeting With a Prayer
Stock Market Is Rigged (wait a minute, that might be a real headline)
All Hollywood Movies Will Be Based on Comic Books (that might be real too)
America Children Score Highest in World in Math and Science Scores
Illegal Immigrants Become Citizens with $5.00 Donation to Democrats
Seat on Stock Exchange Obtained with $5.00 Donation to Republicans
President Obama Abdicates White House; Prince Biden to Become President (kind of lost the republic, haven't we)
Teenagers Distain Texting for Books
Hovering Parents Outlawed by School Administrations
Sundays Are Off Limits to Youth Sport Leagues
Churches See Huge Increase in Attendance
NSA to Hold Open House for Public
CIA Finds Out Something Before It Actually Happens
IRS Giving Everyone a "Freebie" This Year
Government Declares Moratorium on Acronyms
Post Office Shows a Profit
No Discussion of 2016 Presidential Race till November 2015
NFL Keeps Current Playoff Format for Next 20 Years
Happy Birthday to My Daughter Today (It's my column, I can do what I want. Also to my friend, Svetlana)
Governor Christie to Star on Biggest Loser (you can take that joke however you want)
Millionaires and Billionaires Barred from Political Donations
Gun Stamps Replace Food Stamps; Proves Better Way to Feed Family
Sean Hannity Moonlights on MSNBC
USA Military Leaves Afghanistan
 Apple Produces Product Costing Less Than $200
Microsoft Windows Donated to Smithsonian
Reality Shows Collapse Due to Low Ratings
Core School Subjects Replaced by Reruns of Jeopardy
Power Ball at Record High; Treasury Secretary Buys Tickets to Wipe Out National Debt
China Unionizes: Cheap Labor Outlawed. US Factories Boom Again
Donald Trump Says Something Coherent
President Obama Begins Memoirs; Bored After One Page, Plays Golf
Senate Republicans Become Relevant
General Motors No Longer Has to Recall Entire Fleet of Cars
Obamacare Gets 6 Million Sign-ups; 150,000 Actually Pay Premium
Zombies Are Real and Found to Staff Congress
No Change in Obamacare Today!
Narcissists Banned from Facebook; Company Collapses
Happy April Fools Day.  At some point in life we all play the fool. Laugh about it when it happens and move on. As for these headlines, some are wishful thinking while others would be a lot of fun if they occur!
---